Well, we lost the dance-off, but we did the sophomores proud. I just hope I haven't lost all credibility as a teacher by struttin' my stuff in front of a gym full of teenagers. Frankly, they screwed us by sending all of us to the "second round", which we had not prepared at all. I was transported right back to college as I attempted to dance to "Pump Up the Jam". Yikes. Sorry, J., no video footage of my amazingness. Now I'm off to watch the Homecoming parade, which goes right by my house.
later...


I always love the parade. They're so proud and they do like to see me waving on the sidelines. I stood in my neighbor's driveway in the slim hope that I can keep people from knowing where I live, but I'm not sure it worked. The best part was the cast of our fall play marching and screaming "One! Flew! Over! The! Cuckoo's! Nest!" over and over.

Didn't make it to the football game because we had to clean the gutters (wheeee), but the dance, ah, the dance. Perhaps I've become an old fuddy-duddy, but good Lord, the fashions have become ugly. Apparently the new dress of choice is this banded bottom dress, which to me looks like a large sweatshirt cuff tacked on to the bottom of the dress. I found a few pictures: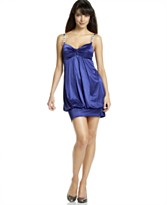 Do you get how short and unattractive these make you look unless you're model-thin, and even then they're not that great? I saw TONS of versions of these dresses. Apparently leopard-print has also made a comeback. I think they theorize that they can wear a shorter dress because it won't ride up as far due to this ridiculous cuff. Some girls looked lovely, but many chose to show off their assets, if you know what I mean. The boys looked pretty standard, nothing exciting there. On the whole it remained a pretty tame experience, with a few kids smoking cigarettes and two who came back drunk, chose to fight it rather than 'fess up, and suffered the consequences. My favorite parts of the night:
-Colgaters, they played "It's Rainin' Men"! (Hallelujah!) And the kids knew it!
-I did the "Cha Cha Slide" with four members of my Brit Lit class. It rocked. You know, that slightly obnoxious but fun (yes, fun, honey--T can't STAND this song) song that tells you what to do: "One hop this time! Cha cha now, y'all. Two hops this time! Take it back now, y'all." I think I liked it best because it's impossible to dance suggestively with your date during this song.
-I ended the night in the foyer instead of the hot, sweaty, hormone-filled gym. Seriously lucky, folks.
-Some kid asked me to dance. I don't know if he got dared to do it or what, but he seemed sincere. Kind of cute, really. No, I did not dance with him.
Meanwhile, while I chaperoned, DH spent his evening at an Octoberfest our friends had and talked with Ryan Miller and Paul Gaustad (two of our best NHL hockey players) for ten minutes. Lucky jerk.
So, that's Homecoming. A little bit of Americana, kids.